The Davis Derby story
Davis Derby has come a long way since its inception as a Leeds-based manufacturer of optical, surveying and mathematical instruments in 1779.
After its move to Derby in 1844, the business became a leading manufacturer of mine safety lamps and lighting systems. Maintaining its strong market position, the business grew throughout the second half of the nineteenth century and began expanding into foreign markets in early part of the twentieth.
From 1945 the focus of the business shifted towards the production of electrical products in mines, a move that paved the way for innovations in mine safety, monitoring and control for the forthcoming decades. Examples include remote control telemetry systems and the RF21 tracking system.
Since 1995, the company has produced its driver access control system for forklift trucks. Generically known as TruckLOG, this system established Davis Derby as a leading supplier of sophisticated electronics to the forklift truck industry.
Today Davis Derby is known as a specialist supplier of electronic equipment for hazardous and demanding environments such as mines, quarries, power stations, ports, cement plants, oil and gas platforms and industrial applications on electric vehicles.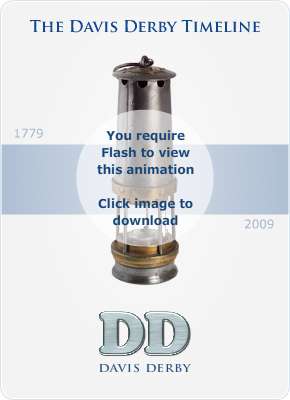 Click on the arrow to play the Davis Derby timeline animation. To download our full history in pdf format, click the icon below.